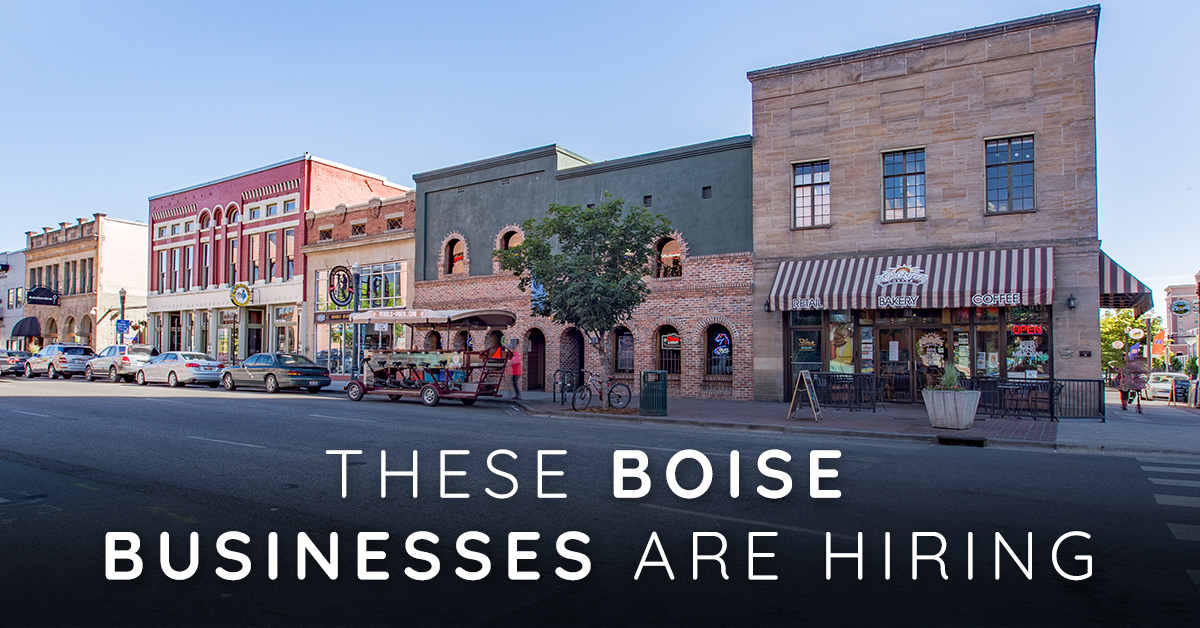 The coronavirus pandemic is affecting people in an abundance of different ways, one of which includes businesses having to close down resulting in unemployment. According to an NPR/Marist poll conducted, 18% of households already reported someone being laid off or having hours reduced due to the coronavirus outbreak. Job stability is essential for many families in Boise and the surrounding Treasure Valley, here are a couple of opportunities that may be exactly what you need to push through the coronavirus outbreak.
Albertsons has announced that they are hiring at all locations with immediate openings to help fulfill their current needs. Check with the store director at your nearest location or apply online. TIP: We heard stopping in will lead to quicker results!
Positions at WinCo are changing day to day based off their current demand. You can easily find jobs on WinCo depending on specific locations here:
The Boise Co-op is continuing to fill positions to keep up with the needs of our community during these times. To see what positions are available and how to apply:
Walmart's all throughout the valley are hiring technicians, sales associates, and cashiers. Find what locations and what positions are available:
With 3 stores around the Boise area, Target is continuing to stay busy and see a need to continue adding to their team. See what positions are available:
HB Specialty Foods is looking to immediately hire Productions Associates, no experience needed with immediate benefits! Send your resume to careers@hcspecialtyfoods.com.
Boise Route Works is hiring Amazon delivery drivers to drop off Amazon packages throughout the Boise area. Email resumes to boiserouteworks@gmail.com.
CaptionCall has multiple job openings at all locations for immediate hire, applications and positions are available online.
Westside Drive-In is looking to hire at their State Street location. Send in your resume online.
SL Start is looking to hiring trusting caregivers, apply online.
PartnerHero in downtown Boise is hiring and will be continuing to hire for remote positions over the next few months. View positions and apply online.
Scentsy is hiring for a variety of positions at their Meridian location. See what's available.
Costco has positions available all throughout their Treasure Valley locations.
Fred Meyer is hiring a variety of store positions throughout the different Boise locations.
Impact Radio Group is always looking to add to their team, email jobs@impactradiogroup.com for more information.
Lotus Communications Corp is hiring for an Account Executive and Part-time Remote Tech. See them here.
Idaho Botanical Garden is hiring a couple of different positions. Email sierra@idahobotanicalgarden.org to see what's open.
Ballet Idaho is looking to hire a Development Director and Business Manager. See the functions of the jobs.
Amagalmated Sugar is hiring for a variety of different positions.
Clearview Cleaning is looking to fill full-time and part-time positions.
Sirucek Chiropractic Neurology Clinic's Meridian office is hiring for a part time Office Front Desk employee for Tuesday – Friday 3PM – 7PM. Please send resumes to drtere@gmail.com.
Valor Global Idaho is looking to hire 300 work from home employees. Learn more and apply online today.
Home Depot is hiring a variety of positions. See what's available.
Cutting Edge Landscape is hiring for different positions throughout Idaho. Apply online!
IES Custom Staffing in Boise and Nampa is currently hiring. Many essential job functions include operating production, manufacturing, and distribution centers. Search openings online.
Services such as Instacart, DoorDash, GrubHub, Postmates and Uber Eats are likely seeing a surge in demand as local businesses are continuing to serve through these third-party platforms. Visit each company's website to learn more and sign up.
Our goal is to continue being a valuable resource for the community during these stressful times.
Please contact Totally Boise if you know of any other Boise area businesses that are continuing to hire!
About the Author

Original Post: https://totallyboise.com/Blog/ArticleID/190/Coronavirus-Boise-Businesses-Hiring